Article structure notification: the article is divided in three sections. First section is focused on short-term, technical and speculative analysis of the project – this is regularly updated part of the article. Second section is focused on general market and sentiment analysis and third section is focused on the long-term, fundamental analysis and future prediction of the project – this is occasionally updated part of the article.
Daily ZILBTC
ZIL did manage to break the 281 sats zone and ran up all the way to 312 sats, not quite as high as we would've expected (we predicted 368 as the potential target). Then it ran out of steem and slumped back in the sideways trading channel between 220-260 sats.
The 270 sats is the new breakout zone for ZIL and 239 is still the breakdown level. There is also a clear symmetric triangle formation on the daily chart, which is usually interpreted as the continuation pattern. This would mean ZIL extends its current bear run. However, move out of the symmetric triangle often goes in the opposite direction as well, so we can state that there is a big move imminent, with only slightly bigger likelihood it goes down than up.
Resistance is at 315 sats, support is at 213 sats.
4H ZILBTC
On the 4 hour timeframe, Zilliqa is sitting below the EMA20 and MA50, after bouncing off the Fib236 at 239 sats while trying to penetrate the Fib382 at 256 sats, a level where it got rejected two times already in May.
Breakout height for ZIL is the 270 sats area where it has 2 Fib levels confluencing. This area is additionally underscored by the fact that ZIL spent early May trading around this level and using it as a support level for almost a week. Target area in case of a breakout is the 323 sats, as projected by the Trend-based Fib Extension.
Breakdown level is the 227 sats zone where Zilliqa sustained the bears and formed a meek local support – if ZIL fails to defend this height, a revisit to the bottom of 203 sats and a new all time low would be likely scenario. As long as Zilliqa is within these two zones (225 – 290 sats), a trendless sideways is on the cards where you can perhaps make short intraday swings, buying the dips and selling the highs (when the price touches MA50 is a good selling point).
One thing to bear in mind is the turbulent and erratic nature of bitcoin – a sudden thrust up or slide down is always on the cards which would invalidate this and all other analysis and predictions. In such cases, market is shaken up with most traders exiting altcoins and entering bitcoin positions or seeking shelter in stablecoins, especially in the initial phases of bitcoin pumps and dumps. So it is always a good idea to keep a close eye on bitcoin's behaviour before opening a long or a short on any other coin in the market.
Should this happen, stop by again to check out our updated charts and thoughts.
Trading volume is relatively low – reported volume in the last 24hrs is $15.9m (the strongest volume day in April for ZIL was April 6th with $46.2m) and "Real 10" (trading volume on the exchanges that provably prevent wash trading) volume is 5x lower – $3.1m. This means that ZIL's liquidity is only moderately inflated and its trading volume is overstated by 3x which is comparatively great ratio.
In the last 24 hours, 24% of trading has been on Binance, followed by BiteBTC, Upbit and EtherFlyer. Most traded ZIL pair has been ZILBTC – 46%, followed by ZILETH at 24%.

Moreover, ZIL has a somewhat strong buy support, according to coinmarketbook.cc. Buy support is measuring sum of buy orders at 10% distance from the highest bid price. This way we can eliminate fake buy walls and whale manipulation and see the real interest of the market in a certain coin.
ZIL currently has a $647k of buy orders measured with this method, which sets ZIL buy support/market cap ratio at 0.43%, a wide-market average. Bitcoin and Ethereum have a 0.27% and 0.28% ratios, respectively. This novel metric indicates there are a lot of manipulations, inflated liquidity and fake orders on all crypto trading pairs, including ZIL pairs.
One thing to bear in mind is the turbulent and erratic nature of bitcoin – a sudden thrust up or slide down is always on the cards which would invalidate this and all other analysis and predictions. In such cases, market is shaken up with most traders exiting altcoins and entering bitcoin positions or seeking shelter in stablecoins, especially in the initial phases of bitcoin pumps and dumps. So it is always a good idea to keep a close eye on bitcoin's behaviour before opening a long or a short on any other coin in the market.
Should this happen, stop by again to check out our updated charts and thoughts.
Social Metrics
According to the data provided by cryptosub.live and DataLight.me, Zilliqa saw a spike in activity on its Reddit, but stagnation in terms of buzz around it on Twitter and Telegram.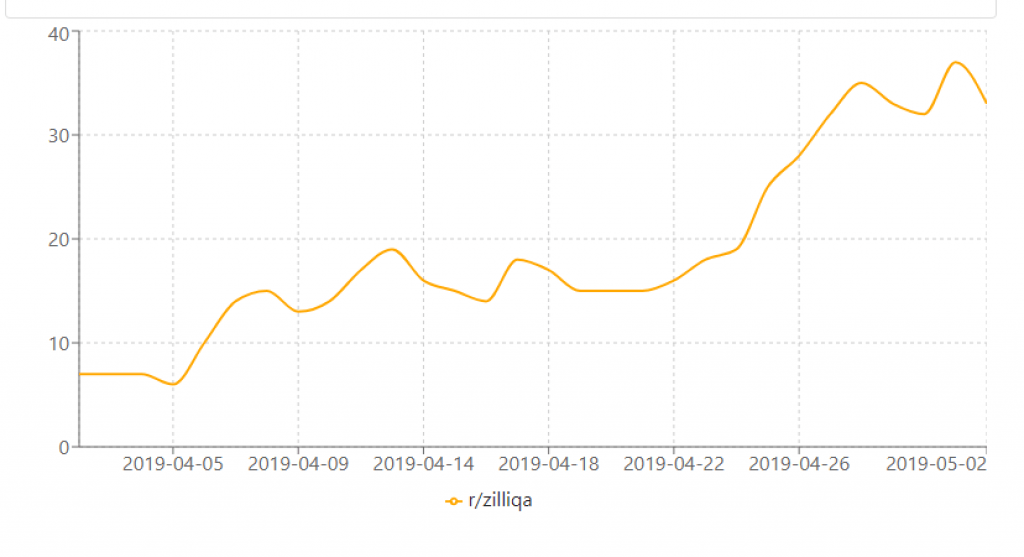 Mid May Update: Fundamentals
To assess fundamental health of a project, we used the FCAS metric. FCAS is a comparative metric whose score is derived from the interactivity between primary project lifecycle fundamentals: User Activity, Developer Behavior, and Market Maturity.
There are a few sub components which provide data to each fundamental:
User Activity is comprised of Project Utilization and Network Activity
Developer Behavior is comprised of Code Changes, Code Improvement and Community Involvement
Market Maturity is comprised of Liquidity and Market Risk. Market Maturity has less than 5% impact on a project's overall FCAS.
FCAS ratings are on a 0-1000 point scale with a corresponding letter grade. Break points are based on standard deviations in the underlying component distributions.
900 – 1000 is marked as S for superb. 750 – 899 is marked as A for attractive. 650 – 749 is marked as B for basic. 500 – 649 is marked as C for caution. And finally, below 500 is marked as fragile. You can read more about it here.
Zilliqa has been ranked as the A category – attractive with overall 761 points as of May 8th. By far the strongest metric that contributed to this score is developer activity that got 820 points, followed by user activity with 711 and market maturity that had 627 points.
This data backed fundamentals valuation model is a good insight into underlying driving forces of a project and as you can see ZIL fares excellent under the scrutiny of FCAS. Unfortunately, the market is not in agreement with this assessment and is yet to reflect the FCAS established value in ZIL price.
Below are some of the most important news around the project in the last 30 days.
Exchanges that support Zilliqa token swap have been updated: Coinone, Binance and Upbit have done the swap. Ongoing are: Huobi, Okex, Koinex, Kucoin. To be announced: Bittrex, Gopax, Korbit, Gate.io.
BOLT one of the first dApps being built on the state of the art Zilliqa network released news on a strategic partnership with Binance and Binance chain while negating the claims they are leaving Zilliqa blockchain. The token itself will be built upon the Zilliqa networking utilizing the smart contract infrastructure and sharding properties of the network but will partner with Binance chain to offer fast confirmation times and liquidity for the project.
The mainnet's bootstrap phase has come to a close, and the core tech team worked hard over the final two weeks of this phase to upgrade the mainnet to the latest version 4.4.0 and its subsequent hotfix version 4.4.1. Apart from the security and functional fixes that ZIL regularly introduce in each upgrade, the major improvements in version 4.4.0 revolve around storage, mining, and usability.
Zilliqa announced in their Telegram group that they are running internal tests right now to see if smart contracts will work fine as expected so the option is disabled for the public right now. They plan to announce in mid May on their decision on when to enable it. Testing looks good as of now and but they cannot say much unless all the tests are done.

Also according to one of their developers on Telegram, they are working on addition of Zilliqa to Ledger hardware wallet but that implementation requires coordination between the two teams which is slowing down the whole process since Ledger developer team is overstrained.
Zhip – first iOS wallet for Zilliqa is released on App Store – you can check it out here: itunes.apple.com
In other news, Zilliqa have completed their first blockchain pilot with Mindshare over the past two months. The blockchain pilot is a live advertising campaign that was shown to audiences in Southeast Asia region over the programmatic advertising network.
Below is our long-term forecast where we cover general market movements and sentiment shifts before delving deeper into the specific predictions for ZIL.
Zilliqa Intro
A Singapore-based project called Zilliqa is strong contender for tackling the problem of scalability, and has quickly established itself as one of the hottest coins of 2018. Then they went under the radar, mostly due to their own fault and missed deadlines.
The primary strength that Zilliqa brings to the table is that it is one of the first projects to successfully harness the power of sharding as a scaling solution. While other projects (including Ethereum) are planning to implement sharding, Zilliqa was among the first to demonstrate that it can really work.
Zilliqa is not just some generic fork like many other altcoins; this is a team that tries to really build something: Scilla programming language and sharding are best proofs for that. For this reason, Zilliqa deserves props up from the whole crypto community.
Year in Review
In 2018 Zilliqa completed the major building blocks of a sharding blockchain, including launching the Mao Shan Wang public testnet with external miners. They also designed and implemented Scilla, a new secure-by-design smart contract language.
Beyond the technology, Zilliqa team has also actively been engaging with industry partners and the wider blockchain ecosystem. They have been working with Mindshare on Project Proton, to demonstrate how Zilliqa's blockchain protocol can address some of the challenges in programmatic advertising, such as settlements and transparency. They also launched the #BuildonZIL Ecosystem Grant Programme this year to support developers in growing our ecosystem.
The second part of the year was marked with the long-awaited mainnet launch that finally happened on January 31st of 2019.
Zilliqa (ZIL) Roadmap for 2019
The Zilliqa Mainnet is currently in bootstrap phase, whereby no transactions of value can be processed, so that ZIL can increase the hashing power necessary to properly secure the network.
Mining on Zilliqa is now open to the public and is showing a healthy geographic distribution around the world. One of the features of Zilliqa is that you can dual-mine on our network alongside Ethereum.
As the mainnet reaches full power stage Zilliqa will begin testing some of the flagship applications that will run on their network, namely Project Proton and the recently announced Hg Exchange.
General Market Movements and Sentiment Shift
The downfall of altcoins that were mainstream media darlings at the start of the year, ZIL among them, can be attributed, in part, to novice investors getting scared off once the bear market kicked in with a vengeance. Every resurgence of bitcoin in recent period, was met with the, for the most part, inability of altcoins to rally with it. Reason for that can be rookie investors learning from their mistakes, while smart money that was previously watching from the sidelines has begun to enter into bitcoin.
These entities weren't about to buy BTC when it was trading at an all-time high, but they'll take a look now, having missed the boat the first time around. None of them, it seems, are interested in altcoins however, despite the fact that many are trading at a 5x discount. Institutional investors may be cautious, but they're not foolish.
Our ZIL Price Prediction for 2019
ZIL, as the rest of the market, is tied at the hip of bitcoin's price action. If bitcoin embarks on another bull run, ZIL can hope for one as well. Since that is very unlikely, don't expect much to change for ZIL price-wise in this year. So 2019 will be a year of boring sideways action with minor bitcoin ignited jumps and slumps.
In general:
The main currency in cryptocurrency markets is Bitcoin and given this, altcoins tend to fuel Bitcoin runs and Bitcoin tends to do the same in return. Given this relationship, Bitcoin price movements (or lack thereof) tend to effect altcoin prices.
When Bitcoin goes up swiftly, it will likely:
Suppress or depress altcoins as money flows into Bitcoin;
Or, take altcoins along for the ride
In cases when Bitcoin plunges, it will likely:
Depress altcoins as money flows into fiat;
Or, cause altcoins to boom as money flows into them, but this is rarely the case.
When Bitcoin moves sideways, it will likely:
Cause altcoins to mimic that as traders wait for a clear sign on the direction of the market;
Or, cause altcoins to flourish as traders look for returns in altcoins and try to get favorable trades in terms of BTC pairs.
To summarize, Bitcoin is the focal point of the crypto market in many ways, and with BTC trading pairs on every exchange, the gravity of Bitcoin is hard to evade.
The majority of projects will fail — some startups are created just to gather funds and disappear, some would not handle the competition, but most are just ideas that look good on paper, but in reality, are useless for the market.

Vitalik Buterin, co-founder of Ethereum said:
"There are some good ideas, there are a lot of very bad ideas, and there are a lot of very, very bad ideas, and quite a few scams as well"

As a result, over 95% of successful ICOs and cryptocurrency projects will fail and their investors will lose money. The other 5% of projects will become the new Apple, Google or Alibaba in the cryptoindustry. Will ZIL be among those 5%?
It is more than plausible. But Zilliqa will live and die by the sharding.
Sharding technology is of high importance, not only for Zilliqa, but for the whole cryptocurrency industry. Should this scaling solution proves its value on Zilliqa's blockchain, it can be implemented on other networks which would lead to a huge breakthrough on one of the biggest painpoints of the whole crypto world.

Why will Zilliqa succeed?
Why will Zilliqa go up and rise is a very common question among the holders or potential buyers.
There is one main reason, one main avenue for ZIL to reach its goal and that is their scalability solution the so called sharding. If they manage to pull it off and implement it on a large scale, that will surely launch the project and its token to a new level.
Zilliqa is the worlds first public, permission-less blockchain that has successfully implemented sharding to scale to thousands of transactions per second. If a blockchain can, in fact, handle 2500 TPS to 10,000 TPS, we can see actual real-world use cases tested on blockchains. If Zilliqa can prove it's technology with some real word enterprise applications, Zilliqa could become the de facto backbone for enterprise blockchain use.
Why will Zilliqa fail?
Small warchest to fund their roadmap, team fatigue or infights or rogue member that could disrupt the development are all possibilities that could lead to Zilliqa failure. There are no signs of any of these threats to materialize at the present time, however, other crypto projects taught us that anything that could go wrong with them, went wrong.
Can Zilliqa reach $1 or even $10?
That is highly doubtful, at least for the foreseeable future, because of the unfavorable tokenomics. Zilliqa has only issued 41% of its token supply and has a yearly inflation of 27% which puts it among the more inflationary projects at the moment. If Zilliqa were to reach $1, that would mean it has a $9 billion market cap under the current supply, that still has 2.5x to grow to reach total supply. Meaning, Zilliqa would have a total market cap of $23.5 billion if it were to reach $1. To talk about $10 per Zil is nonsensical.

Is Zilliqa dead?
No, judging by the team activity on social media, github, their own website. Their communities on Reddit and Telegram are also active, although much lower engagement levels are noticeable when compared to 2017. Coin is also still listed on all major exchanges which indicates that ZIL is far from a dead project.
All of this summed up means one thing: ZIL might live through couple of orchestrated and, for a regular trader, completely unpredictable pumps but the majority of time will be murky sideways trading with small volume and no significant interest from the market.
Price will heavily depend on what BTC will do and since many analysts think BTC will not be making big moves in this year, it is hard to expect ZIL will do them either. The price will probably stagnate and record slow-moving depreciation or appreciation depending on the team activity, potential technological breakthrough or high-level partnership.
Market prediction for Zilliqa price 2019
With the market being completely unpredictable, forecasting the cryptocurrency price is really more of a gamble and luck rather than a data driven guesstimate.
Let's throw a glance at the eminent publications and personalities, and their predictions regarding the Zilliqa (ZIL) price, which will give us another point of view to consider:
Bein In Crypto
Bein in crypto is a crypto blog that predicts Zilliqa might reach $0.09 in 2019, which is the best case scenario and $0.02 as the worst case scenario. They even mentioned that in 5 years, ZIL might even reach $0.19.
Global Coin Report
Global Coin Report, another crypto news and opinion website, is very bullish on Zilliqa because of its technological mastery and predicts that by the end of 2019, it might touch even 1 USD.
Trading Beasts
Trading Beasts is a machine powered algorithm that predicted the price of Zilliqa for 5 years time frame. They have mentioned that by 2019 end, ZIL might reach $0.16, by 2020, they might reach $1.15 and by 2022, it might even touch 5 USD mark.
Wallet Investor
Wallet Investor is traditionally taking conservative predictions and believes that ZIL might go down to $0.00373.
Zilliqa (ZIL) Future: 2020, 2023, 2025
So much of Zilliqa's destiny is pinned on sharding's success of failure. Should sharding work like advertised, in 2020 Zilliqa could potentially eclipse its all time high of $0.23
If ZIL maintains its relevance in the industry and manages to keep up the pace with their competition, it might be worth 10-100x than its hitherto all time high.
Again, If ZIL maintains its relevance in the industry and manages to keep up the pace with their competition, it will surely be 100x+ more worth than now.
Predicting prices of novel, highly volatile and risky asset classes is a thankless task – best answer is no one knows. Educated guess is that realistic ZIL price for the foreseeable future is somewhere between its current price and its all time high.
---
Join Our Telegram Channel
or
Follow @CaptainAltcoin

CaptainAltcoin's writers and guest post authors may or may not have a vested interest in any of the mentioned projects and businesses. None of the content on CaptainAltcoin is investment advice nor is it a replacement for advice from a certified financial planner. The views expressed in this article are those of the author and do not necessarily reflect the official policy or position of CaptainAltcoin.com
Source link