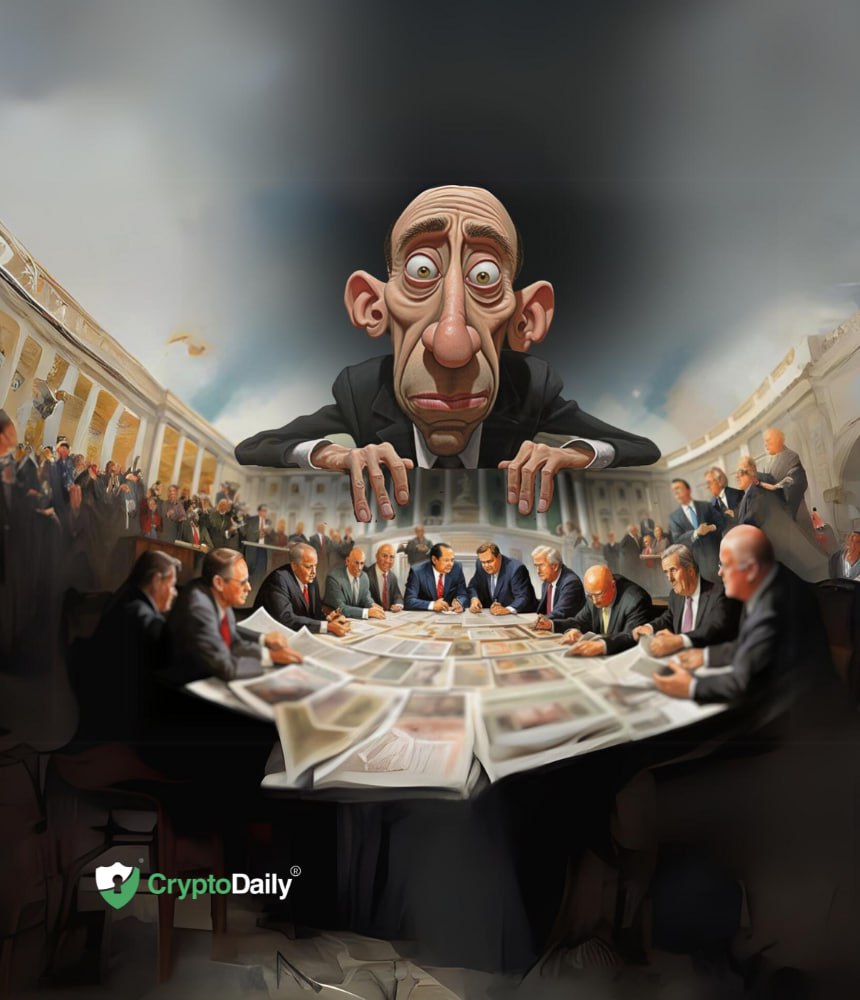 Table of Contents
Representative Tim Burchett has proposed that Securities and Exchange Commission Chair Gary Gensler's salary be cut to just $1 per year. 
In a proposed amendment to the Financial Services and General Government (FSGG) Bill, Representative Time Burchett from Tennessee proposes to reduce Gensler's salary to a symbolic $1. 
US Agencies Fall Victim to Regulatory Overreach
The salary adjustment is part of a broader proposal to defund the Securities and Exchange Commission and rein in government spending in response to concerns about undue financial demands on the government and regulatory overreach.
According to compensation estimates from the SEC's website, Gary Gensler earns over $300,000 a year for his duties as Chairman of the securities agency.
 The FSGG Bill was first introduced in July 2023 and forms part of a wide-ranging set of legislation that aims to reduce US government spending significantly. 
The bill aims to reduce funding to numerous government agencies, including the SEC. 
Defunding Will Force Agencies to Refocus
On November 6, while introducing the FSGG Bill to the House Rules Committee, Representative Steve Womack of Arkansas's 3rd District noted that the SEC and several other agencies were becoming an undue financial burden on the government due to regulatory overreach. 
We are on an unsustainable trajectory.

My bill reins in wasteful Washington spending to address our dire fiscal situation. https://t.co/lWgyvHknQQ

— Rep. Steve Womack (@rep_stevewomack) November 6, 2023
Womack explained that the best way to address spending concerns would be to defund agencies like the SEC to limit its regulatory "intrusiveness." By limiting the agency's "intrusiveness", it is forced to refocus on its role of protecting investors, maintaining fair, orderly, and efficient markets, and facilitating capital formation. Womack commented on X (formerly Twitter), "We are on an unsustainable trajectory." 
During his speech, Womack noted:
"Specifically, we turn off rulemakings at the Securities and Exchange Commission that lack proper cost-benefit analysis and aggregate impact analysis." 
Adding,
"To be clear, the agencies under our jurisdiction perform important functions; however, many have strayed from their mandate, and the results have been a true disservice to the American people." 
Gensler and SEC Face Long Overdue Scrutiny
Chairman Gensler and the SEC have previously come under fire from US politicians and lawmakers.
US Representatives Warren Davidson and Tom Emmer introduced the SEC Stabilization Act earlier this year.
🚨 NEWS – Today I filed the SEC Stabilization Act to restructure the @SECGov and #FireGaryGensler.

U.S. capital markets must be protected from a tyrannical Chairman, including the current one. It's time for real reform and to fire @GaryGensler as Chair of the SEC. Statement ⬇️ pic.twitter.com/0VUHxUAhtB

— Warren Davidson 🇺🇸 (@WarrenDavidson) June 12, 2023
One of the bill's key provisions would be removing Gensler as the agency's head. If passed, the bill would remove Gensler from his position and redistribute the agency's power between its Chair and commissioners. The bill would further add a sixth commission to the SEC to prevent one political party from holding the majority. 
Disclaimer: This article is provided for informational purposes only. It is not offered or intended to be used as legal, tax, investment, financial, or other advice.