There is one more halvening denier in Cryptoville.
In his recent tweet, Bitcoin Jesus "Roger Ver" has just shared his two cents on how the upcoming reward cut is going to impact the top coin's price action. Ver agrees with Coinshares CSO Meltem Demirors that the BTC price might not pump after the much-hyped halving event.
There is a very real possibility the price of Bitcoin Core does not go up after halving.

For the first time, the blocks are full and there is no room for additional commerce to take place on chain.

Bitcoin Cash on the other hand, has
an amazing future ahead. https://t.co/z4tC7jij7d

— Roger Ver (@rogerkver) December 26, 2019
Joining the club of halvening doubters
As reported by U.Today, Demirors predicted that the next post-halvening cycle will be different due to the mushrooming growth of the crypto derivatives niche. Ver, however, believes that the main reason for Bitcoin's subdued price performance could be its block size limit.
Ver points to the fact that Bitcoin's blocks will become full after the halvening, which will clog up the network and significantly slow down transactions. Nobody would want to wait for hours to buy a cup of coffee, right?
However, Bitcoin Cash has never used its 8 MB block size in full so far. According to data provided by blockchain firm LongHash, BTC blocks remain 30 times bigger compared to BCH blocks.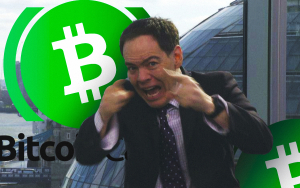 A bright future and grim reality
At the same time, Ver is convinced that Bitcoin Cash, has an amazing future. Earlier, he told CNBC that the contentious fork could go up in value by 1,000 times.
The harsh reality is that the BCH price has recently hit a new all-time low against Bitcoin. Bitcoin Cash will have to come a long way to live up to Ver's high-flown promises.
Will Bitcoin Cash be able to challenge Bitcoin? Feel free to share your take in the comments!