The Litecoin price has come under intense pressure in the past two days as investors battle multiple catalysts. LTC is trading at $67.10, which is slightly below this week's high of $74.45. Its total market cap has dropped to about $4.6 billion, making it the 20th biggest coin in the world.
Why is LTC under pressure?
There are several reasons why Litecoin price has declined sharply in the past few months. First, investors are concerned about inflow and outflow trends in the ecosystem. On-chain data show that more holders have been selling than those who are buying the coin.
Second, Jerome Powell has insisted that the Fed will not save the market like it did in 2018 and 2020. In a statement at a Wall Street Journal event, he reiterated that there will be more pain in the market as the bank fights inflation.
Therefore, investors now believe that the Fed will continue tightening in the coming meetings. Precisely, they believe that the bank will hike interest rates by 0.50% in June and in July. It will then shift to smaller 0.25% rate hikes in the final meetings of the month.
Learn how to buy Litecoin.
Further, Litecoin price is falling because of the elevated risks in the market. The CBOE volatility index is approaching 35 while the Bitcoin fear and greed index has tumbled to the extreme fear level. The latest catalyst for the rising volatility is the recent results by Target and Walmart. The two retailers published results that missed estimates and then warned about their future.
In the past few months, stocks have had a close correlation with stocks, which explains why coins have declined at a time when indices are falling.
Finally, sentiment in the market has been weak, with investors selling all assets. Stocks, bonds, and even safe-haven assets like gold have all tumbled.
Litecoin price prediction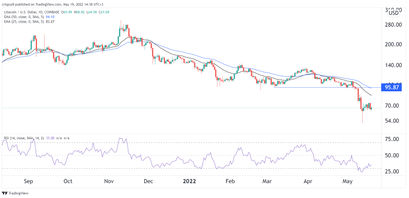 On the daily chart, we see that the LTC price has been in a strong downward trend. The coin has managed to move below th support at $95.87, which was the lowest level on March 6th. It has also declined below the short and long-term moving averages. Notably, it has formed a falling wedge pattern, which is usually a bearish sign. Therefore, there is a likelihood that the Litecoin price will continue falling as investors avoid fighting the Fed.