Blockchain technology provider Alchemy has raised $80 million from investors led by Coatue Management and Addition LP, giving the startup a $500 million valuation.
The fresh capital will help Alchemy expand the developer tools it provides to blockchains other than just Ethereum, strengthen its presence in New York and Southern California, and allow it to open offices in Europe and Asia, co-founder Joe Lau said in an interview. Other investors in the Series B funding round include DFJ Venture Capital; the Glazer family, which owns the Manchester United soccer club; and rock band the Chainsmokers.
Alchemy, which powers 70% of the top applications on Ethereum, made its services available to any company or developer just eight months ago. Before that, only select clients were accepted.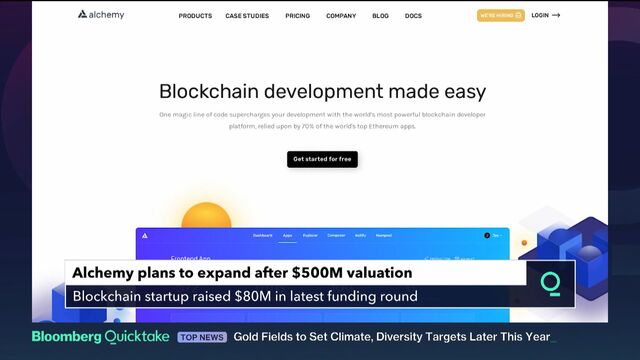 Investors have been pumping money into cryptocurrency projects such as Digital Asset Holdings and Chainalysis, with Bitcoin and Ether prices hitting records in recent months. So far this year, 156 startups focusing on digital technology have raised $3.1 billion, compared with 341 deals that drew $2.3 billion in funding for all of 2020, according to CB Insights.
"It really highlights the power of blockchain and the whole industry and how blockchain has become more mainstream," Alchemy co-founder and Chief Executive Officer Nikil Viswanathan said in the interview. "Alchemy has very solidly shown we provide the same accelerating service for blockchain that Amazon Web Services did for the internet."
Read more: Jay-Z, Charles Schwab-Backed Ethereum App Opens Doors to Public
Alchemy is helping to create a business model called decentralized finance, or DeFi, as opposed to having a centralized entity that controls operations. The Ethereum blockchain makes that possible by allowing computer programs known as smart contracts to operate within that distributed network.
Yet other blockchains such as Flow, which powers the Top Shot non-fungible tokens of the National Basketball Association, are gaining traction. Alchemy plans to expand its tools to Flow, Viswanathan said.
Alchemy calls itself "blockchain agnostic" and wants to help as many distributed computer networks flourish as possible, Lau said.
"Investors see us as a bet on the blockchain industry as a whole," he said.
Tom Glocer, lead independent director at Morgan Stanley, said he's an Alchemy investor partly because he saw Lau and Viswanathan approaching blockchain with "systemic themes" three years ago.
"I couldn't tell you if Bitcoin was going to go up or down or if I should buy Ether," Glocer said, noting that he sought to put his money in a firm that helped make the crypto ecosystem function. "I want to invest in the picks and shovels."
Read more: NFTs Mushroom Into Billion-Dollar Market With Help From Alchemy
Last August, Alchemy said it had 4 million users worldwide and that about $7.8 billion a year moved through the applications that used its services. Today, it has tens of millions of customers and more than $30 billion of annual transactions.
Its services are also used by NFT platforms such as OpenSea, Nifty Gateway, SuperRare and Makersplace, which Christie's used for the record-breaking $69 million NFT auction of digital artist Beeple.
Read more: Crypto Whale Behind $69 Million NFT Sees 'Huge Risk' for Traders
The challenge for Alchemy, which has just 20 employees, will be growing the business to match demand in the fast-moving crypto world, Glocer said.
"They need to scale up the company to handle the level of incoming," he said.