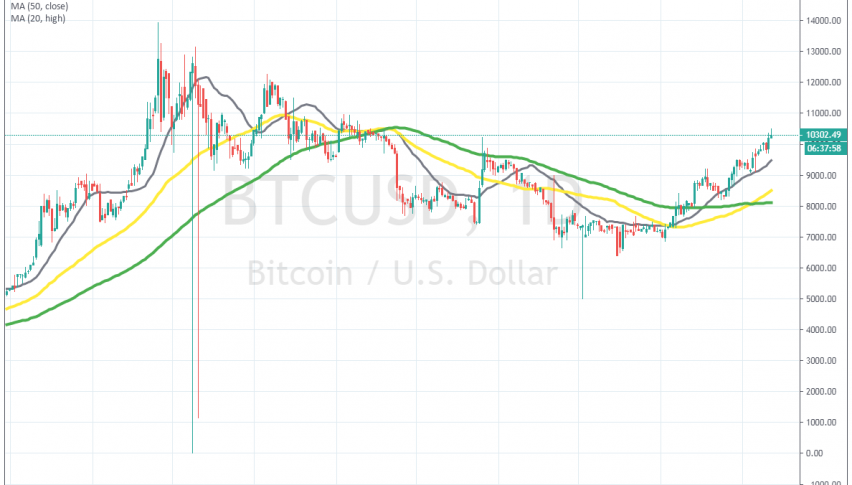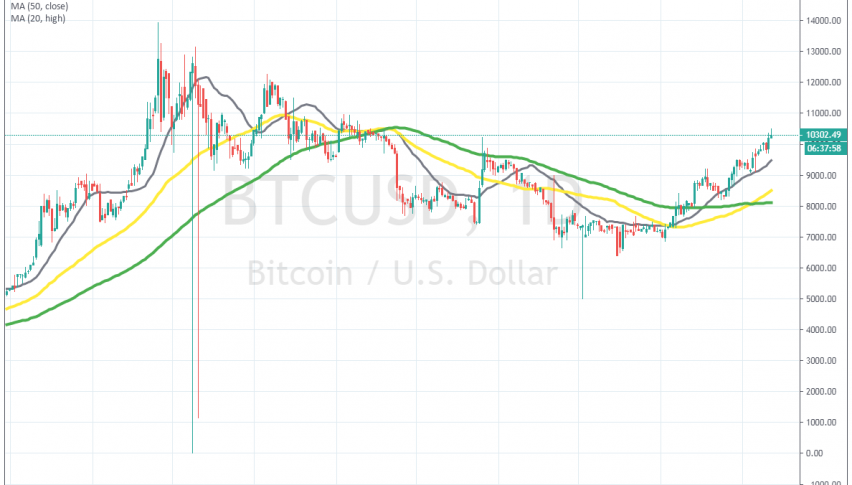 The 20 SMA keeps pushing Bitcoin higher on the daily chart
Cryptocurrencies turned quite bullish in Q2 of last year, with BITCOIN surging to $13,800 back in June, after trading sideways in a range between $3,000 and $4,000 during most of Q1. Although, the upside momentum faded after that surge and since late June, Bitcoin has been retracing lower.
The price fell pretty close to $6,000, which means retracing lower more than 50% during this time. But, the decline ended with 2019 and since early January, cryptocurrencies have been grinding higher. Bitcoin was finding some form of resistance at the 20 SMA (grey) in December, but it eventually moved above it.
The 100 SMA (green) on the daily chart, was broken in January this year, which was a strong sign that the decline was over for Bitcoin. The 20 SMA turned into support and it has been pushing the price higher since then. Last week we saw a retrace lower, but it seemed pretty weak and the price bounced off the 20 SMA, so the pressure is to the upside for Bitcoin now.
About the author

Skerdian Meta

//
Lead Analyst

Skerdian Meta Lead Analyst.
Skerdian is a professional Forex trader and a market analyst. He has been actively engaged in market analysis for the past 11 years. Before becoming our head analyst, Skerdian served as a trader and market analyst in Saxo Bank's local branch, Aksioner. Skerdian specialized in experimenting with developing models and hands-on trading. Skerdian has a masters degree in finance and investment.

×
GET MARKET
OPPORTUNITES
BEFORE EVERYONE ELSE
Receive signal updates & market analysis directly to your inbox
Create your personal watchlist to follow only what interests you
×
, one last step
Why trade with :
SPECIAL PROMOTION:
Trade with and Get the
1-Year Premium Plan (worth $120) for FREE!
×
I would like to get more details about
trading with